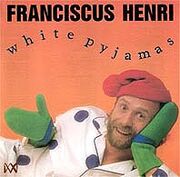 Franciscus Henricus Antheunis
, professionally known as
Franciscus Henri
(born 7 August 1947, The Hague, The Netherlands), is an internationally known musician and children's entertainer. He has dual Dutch and Australian nationality. In 1970 he gained national prominence when he competed in the TV talent quest New Faces, which led to a recording contract with the Melbourne-based independent label Fable Records. From 1997, he also performs as Mister Whiskers, a travelling singer who loves children and performs for them with his dog companion, Smiggy.
He wrote several songs for the Ferry Boat Fred soundtrack.
Songs
Ad blocker interference detected!
Wikia is a free-to-use site that makes money from advertising. We have a modified experience for viewers using ad blockers

Wikia is not accessible if you've made further modifications. Remove the custom ad blocker rule(s) and the page will load as expected.