This article is about the VHS. You may be looking for the episode.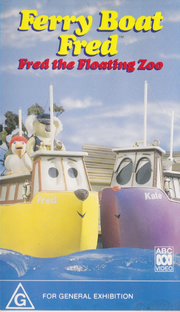 Fred the Floating Zoo was the second VHS release. It was released on 7 December 1992 by Video Selection Australia and ABC Video. It contained the next 8 episodes from Ferry Boat Fred.
Description
Welcome back to the wonderful world of Ferry Boat Fred. Join Fred and Kate and all your favourite characters around Wallaby Wharf and on the harbour. In this, the second video from Ferry Boat Fred, Fred offers to take the animals from Taronga Zoo out on the harbour on their day off, but it's not all smooth sailing!
Episodes
Trivia
This was the final Ferry Boat Fred home video release.
The cover art was later re-used for the audiobook, with some slight modifications.
Gallery
Ad blocker interference detected!
Wikia is a free-to-use site that makes money from advertising. We have a modified experience for viewers using ad blockers

Wikia is not accessible if you've made further modifications. Remove the custom ad blocker rule(s) and the page will load as expected.