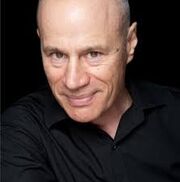 George Spartels
wrote
By Ferry
on the
Ferry Boat Fred (Soundtrack)
.
Biography
George Spartels was born 25 April 1954 and is an Australian actor of Greek descent on his father's ancestry, and Irish/English on his mother's, and his has a younger brother who is a director for the Carlton Football Club in the national AFL . He remains best known for his role on the television soap opera Neighbours, playing Benito Alessi. He was married to actress Elizabeth Alexander. Spartels appeared on the ABC's Play School between 1985 and 1999 and has produced a number of children's videos. He also appeared in Prisoner in 1979, Punishment in 1981 and played the role of Blackfinger in the movie Mad Max: Beyond Thunderdome in 1985 alongside Mel Gibson and Tina Turner. Spartels has guest starred in many other Australian television series from the 1970s to the present, and has appeared in a number of episodes of the medical drama series All Saints and Packed to the Rafters as Carbo's father.
Ad blocker interference detected!
Wikia is a free-to-use site that makes money from advertising. We have a modified experience for viewers using ad blockers

Wikia is not accessible if you've made further modifications. Remove the custom ad blocker rule(s) and the page will load as expected.