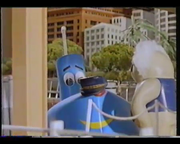 Jean is a blue submarine who is friends with the ferries. She used to play tricks on everyone in the harbour, but she changed her ways when the ferries taught her a lesson.
She only has speaking roles in Jean the Submarine and Fred's Fishing Trip, but has a cameo appearance in The Ferry Race. She also has a stock footage cameo appearance in the Ferry Boat Fred music video on the ABC for Kids - Video Hits Volume 2 video. She also camoed in Fred Says Goodbye.
Ad blocker interference detected!
Wikia is a free-to-use site that makes money from advertising. We have a modified experience for viewers using ad blockers

Wikia is not accessible if you've made further modifications. Remove the custom ad blocker rule(s) and the page will load as expected.