Kate the Painter is the seventeenth episode of Ferry Boat Fred. It first aired on the ABC on 21 April 1992.
Plot
Kate is busy painting people and things in the harbour. Everyone seems to like her paintings, until Pete sees them. He criticises Kate's unusual colour choices. Kate then challenges him to a contest, painting Fred, to see who can paint better.
Kate's painting is finished with detail and accuracy, abeit with unusual colours. Pete's painting has the correct colours, but aside from that, does not resemble Fred at all. The captain decides that Kate's painting is the best, and she and Pete put aside their differences. Kate notices that Pete looks like Fred with all the yellow paint all over him.
Characters
Gallery
Episode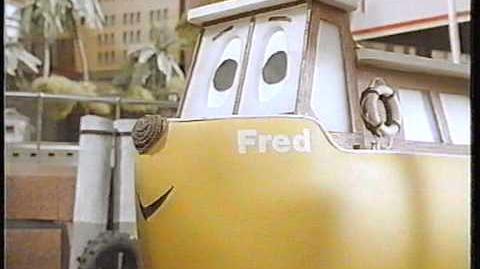 Ad blocker interference detected!
Wikia is a free-to-use site that makes money from advertising. We have a modified experience for viewers using ad blockers

Wikia is not accessible if you've made further modifications. Remove the custom ad blocker rule(s) and the page will load as expected.