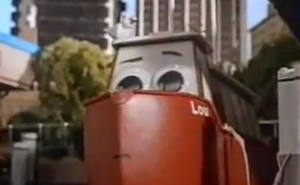 Lou is a red ferry. She is the largest of the ferries in the harbour.
In the episode "The Ferry Race", she was ahead of the other ferries, and was so far ahead that she decided to rest, but ended up falling asleep, thus losing the race. In Kate at the Fairground, she told Kate that the party will be thrown the following day after she saw Kate's problem.
Appearances
Fred's Sister Kate (cameo), The Ferry Race (does not speak), Kate's Lost Bell (cameo), Kate the Painter (cameo), Pete the Water Skier (cameo), Kate at the Fairground, Fred Joins a Band (cameo), Night-Time Noises (cameo) and Fred's Fishing Trip
Gallery
Ad blocker interference detected!
Wikia is a free-to-use site that makes money from advertising. We have a modified experience for viewers using ad blockers

Wikia is not accessible if you've made further modifications. Remove the custom ad blocker rule(s) and the page will load as expected.