Pete the Water Skier is the twenty-first episode of Ferry Boat Fred. It first aired on the ABC on 27 April 1992.
Plot
On his day off, Pete decides to go water skiing with Fred. Pete does very well in the beginning, but when he gets too boastful of his skill, he spreads his wings, causing him to fly in the air and colliding with a hot air balloon. The damaged hot air balloon loses air, and falls onto Fred's deck, much to the adversion of the kangaroo in the balloon's basket. Fred takes the damaged balloon to Spike's workshop, where Spike patches the hole in the balloon, and refills it with air. The balloon sails away, and Fred reminds Pete that he must be careful when he tries new things.
Characters
Gallery
Episode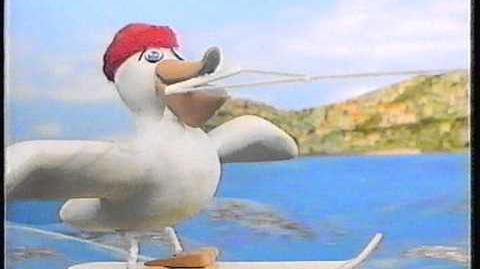 Ad blocker interference detected!
Wikia is a free-to-use site that makes money from advertising. We have a modified experience for viewers using ad blockers

Wikia is not accessible if you've made further modifications. Remove the custom ad blocker rule(s) and the page will load as expected.