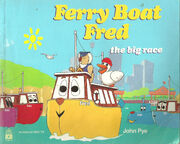 The Big Race is a book written by John Pye. 
It was published in 1993 by ABC books.
Description
In a country at the top of the world, or the bottom according to your point of view, there's a city that's built around a harbour...
In this delightful book you will meet Ferry Boat Fred, the smallest of all the ferries on the harbour, and all his harbour friends. Fred wins a ferry race for the very first time and discovers, along with his sister Kate, a very strange sound... The illustrations capture the appeal of the Ferry Boat Fred television series where Pelican Pete, Spike the echidna, Belinda Brushtail and all the ferries come to life. 
Characters
Trivia