This article is about the place. You may be looking for the song.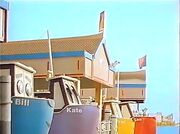 Wallaby Wharf is the wharf where Fred, Kate, Bill and Lou live.
Trivia
Wallaby Wharf maybe located at Circular Quay in between the Sydney Harbour Bridge and the Sydney Opera House.
Ad blocker interference detected!
Wikia is a free-to-use site that makes money from advertising. We have a modified experience for viewers using ad blockers

Wikia is not accessible if you've made further modifications. Remove the custom ad blocker rule(s) and the page will load as expected.